Dialecto-what?
Dialectograms are highly detailed documentary drawings. They explore the use of illustration as record, information as art, to comment upon contemporary city spaces across Glasgow, public, private and personal. Whereas diagrams convey facts and numbers, dialectograms incorporate personal feelings, old stories, local myths and personal experience into the piece, showing facts, thoughts and feelings.
They use a deliberately loose and organic 'anti-architectural' drawing style to describe not just what it is there, but who uses it, what a particular space means to someone, and how relationships between people shape their environment. They are made by talking to people, sharing ideas and processing them into visual forms – a diagram, a dialogue, a dialectic, but also a dialect of technical drawing – hence, Dialectogram.
For more information visit www.dialectograms.co.uk
Red Road (above ground) Dialectogram:
A number of dialectograms have already been made at Red Road. The Nivens from S(i)even was put together with the kind help and assistance of the Niven family, residents of the scheme for 40 years. The Nivens moved out in 2008, and their flat is long gone but, with the aid of Bob Niven, whose memory is somewhat encyclopaedic, I was able to reconstruct his family home as best I could.

Click on the image below to zoom and pan for more detail or you can view a full size drawing here >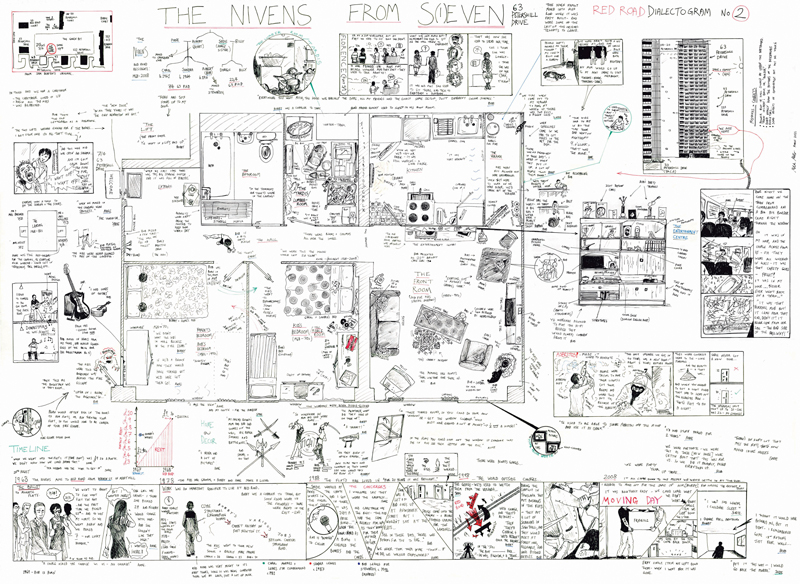 Move your mouse over image